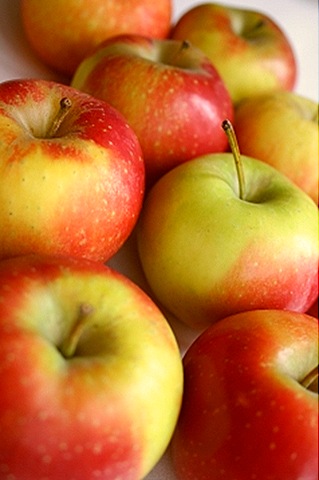 With apple season upon us, how could I resist the urge to make a sweet and buttery fresh crisp with apples Ralph picked from the garden. The apple crisp is in the oven and the custard is all ready to pour over the crisp. It smells so good.
Church meetings are done. I played the flute today in sacrament meeting. I accompanied the primary on one of the songs for their program today. I tried so hard to get out of it. Everything from, I haven't played in over a year to it is against church policy but the bishop wouldn't budge. I don't know about you, but it doesn't matter how many times I practice, or how many times I find myself in front of a crowd, I get totally nervous. I don't think I have ever performed a piece of music perfectly...for anyone. That's ok, as long as I keep playing and graciously accept when asked to play, the Lord will continue to bless me to be able to use the little talent that I do have.
Ralph is in the living room with all the young men and their leaders. They are having the "Keep the Wocket in your Pocket" talk. So I actually am getting a few moments of quiet. Riley is even getting the talk with the YM, not that he will listen, but I don't have to worry about him.
A bit of exciting news...the stake presidency has started interviewing for a new bishop. Kind of scary because you never know what assignment is around the corner. I don't know if we will have to change wards, and/or if Ralph will get called to the High Council or if we will be called as service missionaries to serve in a ward in our stake that is struggling? What I do know is that I would love a break, but then that is not how the Lord works. Isn't that what He made Sundays for...a break? Ha ha ha.
I find that when there is too much going on in the brain, the best way to think clearly for me is to empty it of all the little extras. One of the best ways for me is to make a list. Not that this is everything on my mind, but at least it leaves room for the important stuff.
I need to...
*Clean off kitchen table of clutter - for FHE tomorrow
*Get another space heater - it is supposed to snow this week.
*Get a bathroom rug
*Finish cleaning up crap room
*Finalize Stampin up Order
*Find a black sweatshirt for the game on Saturday - Ralph just informed me he is not going. (another story for another day) Anyone want to come with me?
*Buy a new home phone - we decided to hold on to our land line a little longer
*Get car fixed - don't know how it will happen - it is a mystery
*Help a friend make Halloween favors for her daughters school class
*Quit eating the halloween candy
Have a great evening. Ta ta for now.